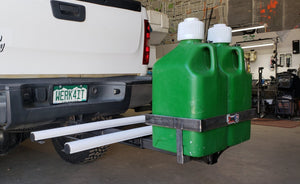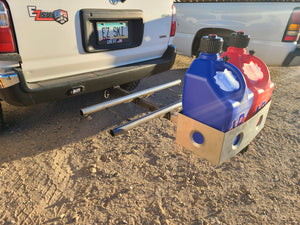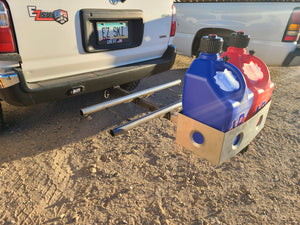 EZ-Ski 5 Gallon Fuel Jug Holder (FJC)
NOT RELEASED YET....
*these are in their prototype phase, being real-world tested before release, please call/text to inquire**
Tired of having the inside of your SUV smell like 2 stroke gas? Don't want to try to strap down fuel jugs in the bed of your truck?
Here at EZ-Ski, we are constantly designing ways to make your jet-ski life easier! We build this 5-gallon fuel jug carrier in both a single and a  dual jug configuration. These will simply slide and pin into the rear of our V2 model Hitch-Haulers or directly into your vehicle's hitch receiver. These also allow you to lock your fuel jugs down to stop fuel bandits from snatching your fuel.  These are built from the same high-quality American materials that you have come to trust in our Flagship Hitch-Haulers. Each unit undergoes our 8 step industrial powder-coating process and comes with our Lifetime Warranty.  
Stop cramming your fuel jugs into your SUV or trying to keep them from tipping/spilling in your truck bed.. pickup an EZ-Ski  FJC dual or single fuel Jug carrier today! 
 FJC Single carrier  $TBA
 FJC Dual carrier $TBA
*Triple and quad carriers available via custom order
*V2 FJC units available with a class 3 hitch receiver built into the rear for towing a trailer behind (*cannot be used behind a Hitch-Hauler to tow with) 
**these are in their prototype phase, being real-world tested before release, please call/text to inquire**
Please call/text to discuss options/questions (928) 846-7647