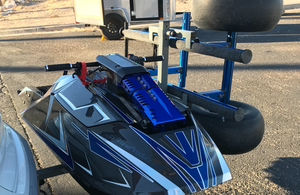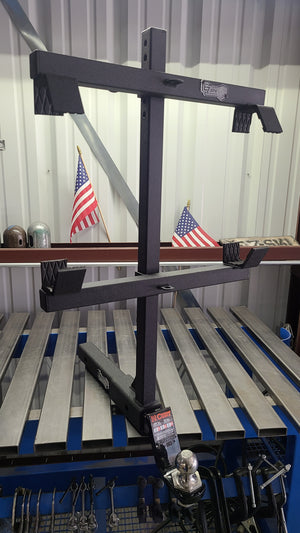 Ez-Ski Universal Beach Cart Clamp (BCC)
Currently being revamped not available right now.. 
Tired of trying to fit your jet-ski beach cart into your SUV? Sick of lifting into the bed of your truck and taking valuable space for coolers and EZ-ups? EZ-Ski's Universal Beach Cart Clamp will solve those issues! This is the FIRST of its kind anywhere in the world. At EZ-Ski.. we innovate and never imitate. 
EZ-Ski has engineered, designed, and tested a universal clamp that will slide into the rear of any of our V2 Hitch-Haulers OR the hitch receiver on your vehicle. We call this beauty the "Beach Cart Clamp" or "BCC" for short. These will fit almost every beach cart on the market including Jet Lift, Factory Zero, Bigfoot, and more. It securely clamps down on the bunks of your beach cart and safely carries it behind your ski or vehicle. It is fully adjustable via a sliding top clamp with a spring-loaded pin pull. There are numerous tie-down points as well as the ability to lock your cart to the BCC.  These come powder coated in a black texture finish in our 8 part Industrial powder-coat process. (custom colors available)  The BCC also comes with a Lifetime Warranty. 
Stop cramming your beach cart into your SUV, or lifting it into your truck bed... pickup an EZ-Ski BCC toda
**V2 model BCCs available also ( BCC with hitch receiver built into the rear for towing) * only when placed in hitch receiver of vehicle*  (+$15) 
Please call/text to discuss options/questions (928)846-7647